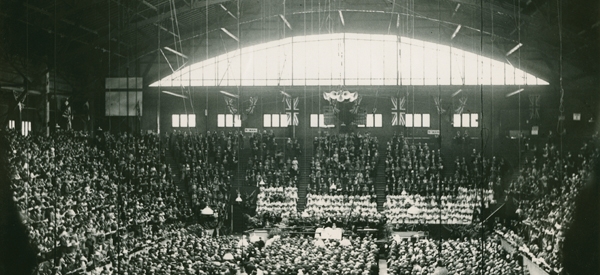 Nomination: Formation of The United Church of Canada
Category: Event/Intangible Culture
Nominated By: Community
Year Commemorated: 2014
---
The United Church of Canada is the largest Protestant denomination in Canada. We minister to over 2 million people in about 3,000 congregations across the country. Ours is a rich history closely entwined with the development of Canada itself.
The spirit of fellowship, which has always been distinctive of Canadian life, found expression in the political union of Canada in 1867, and in a succession of unions within various branches of the Christian church from 1817 to the early years of the twentieth century
The United Church was inaugurated on June 10, 1925 in Toronto, Ontario, when the Methodist Church, Canada, the Congregational Union of Canada, and 70 per cent of the Presbyterian Church of Canada entered into an organic union. Joining as well was the small General Council of Union Churches, centred largely in Western Canada. It was the first union of churches in the world to cross historical denominational lines and hence received international acclaim. Impetus for the union arose out of the concerns for serving the vast Canadian northwest and in the desire for better overseas mission. Each of the uniting churches, however, had a long history prior to 1925.
For more detailed history please view this well-loved article from The Manual details the process behind the formation of The United Church of Canada.